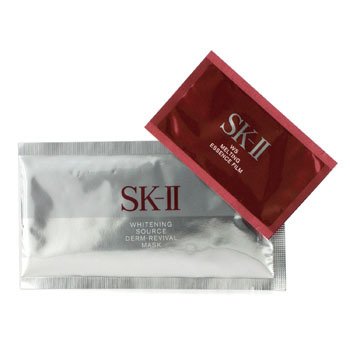 SK II Regenerační bělicí kúra Whitening Source Derm-Revival Program 10sets
Bělící program obsahuje: 10x bělící masku Derm-Revival 1 kus, 10x zklidňující sérum WS 1ks. Vyvinuto na základě pokročilé bělící technologie. Účinně redukuje melanin a proces tvorby tmavých skvrn. Bojuje proti pigmentaci po slunění. Elastické vlákno se dobře přizpůsobí pleti a dodává bělící substanci hluboko do kůže. Vysoce efektivní péče pro projasnění a bělení pokožky.
Zanechá pokožku hebkou, perfektně čistou a zářivou.

Add To Cart
100% Genuine Product
Free Shipping by Czech Republic Post or Courier Service. Delivery usually takes 7-14 days. If no one is home when the parcel is delivered it will be left at the post office for collection.

30 days money back guarantee. If there is any problems with the products please send us an email and we will provide a solution to you, guaranteed.
We use PayPal to securely process payments including credit card payments.
Your purchase is protected by PayPal buyer protection. If you don't receive the products you ordered you can claim your money back.