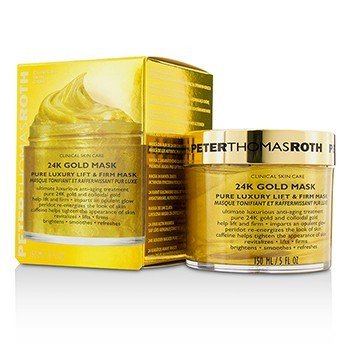 Peter Thomas Roth Pleťová maska se zlatem 24K Gold Mask 150ml/5oz
Luxusní, vysoce účinná pleťová maska proti stárnutí. Obsahuje čisté 24K zlato a koloidní zlato pro vypnutí pleti a dodá opulentní jas. S kofeinem se zpevňujícím účinkem.Plné Peridotu,nádherým drahým kamenem bohatým na magnesium. Pomáhá posílit pleť a omezuje stárnoucí efekt stresu.
Obohaceno o kyselinu hyaluronickou a glycerin dodávající intenzivní hydrataci. Snižuje vzhled jemných linek a vrásek.Odhalí hladší,plnější,vyplou, zářivou, obnovenou a mladě vypadající pleť.
Kč
1,945
Free Shipping, VAT included

Add To Cart
100% Genuine Product
Free Shipping by Czech Republic Post or Courier Service. Delivery usually takes 7-14 days. If no one is home when the parcel is delivered it will be left at the post office for collection.

30 days money back guarantee. If there is any problems with the products please send us an email and we will provide a solution to you, guaranteed.
We use PayPal to securely process payments including credit card payments.
Your purchase is protected by PayPal buyer protection. If you don't receive the products you ordered you can claim your money back.
There are no reviews yet. Be the first to write reviews!