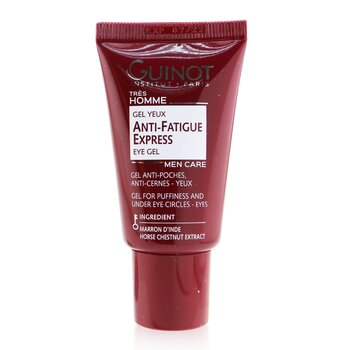 Guinot Osvěžující oční gel Tres Homme Contour Yeux 20ml/0.7oz
Prvotřídní oční gel pro muže s unavenou pletí. Redukuje otoky a kruhy pod očima. Omezuje vznik drobných vrásek. Neuvěřitelně zjemňuje a hydratuje pokožku kolem očí.
Vrací vám zpět váš sexy pohled. Pro všechny typy pleti.
Kč
1,381
Free Shipping, VAT included

Add To Cart
100% Genuine Product
Free Shipping by Czech Republic Post or Courier Service. Delivery usually takes 7-14 days. If no one is home when the parcel is delivered it will be left at the post office for collection.

30 days money back guarantee. If there is any problems with the products please send us an email and we will provide a solution to you, guaranteed.
We use PayPal to securely process payments including credit card payments.
Your purchase is protected by PayPal buyer protection. If you don't receive the products you ordered you can claim your money back.