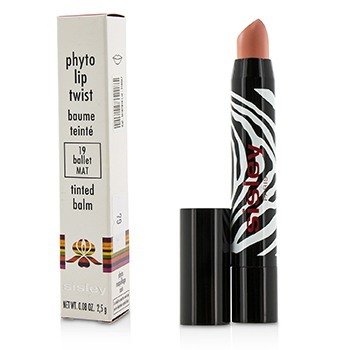 Sisley Phyto Lip Twist - # 19 Ballet Mat 2.5g/0.08oz
2-v-1 zparvený balzám na rty. Kombinuje barvu rtěnky s leskem na rty. S hedvábnou, ultra smyslnou a jednoduše se nanášející konzistencí. Obsahuje směs originálních, aktivních rostlinných složek pro vyplnění a hydrataci rtů. K dostání v různých, na nošení jednoduchých barvách pro každou příležitost - od téměř nahých barev až po intenzivní
Vytvoří jemný, orosený a zářivý finiš.

Add To Cart
100% Genuine Product
Free Shipping by Czech Republic Post or Courier Service. Delivery usually takes 7-14 days. If no one is home when the parcel is delivered it will be left at the post office for collection.

30 days money back guarantee. If there is any problems with the products please send us an email and we will provide a solution to you, guaranteed.
We use PayPal to securely process payments including credit card payments.
Your purchase is protected by PayPal buyer protection. If you don't receive the products you ordered you can claim your money back.