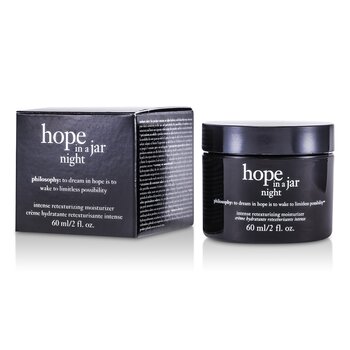 Philosophy Noční hydratační péče pro transformaci textury Hope In a Jar Night Intense Retexturizing Moisturizer 60ml/2oz
Noční hydratační péče pro transformaci pokožky. Obsahuje patentované qusomy, které zajišťují dopravu kyseliny glykolové hluboko pod povrch pokožky. Zahrnuje technologii s postupným uvolňováním, která minimalizuje potencionální podráždění.
Vypíná drobné linky, přičemž sjednocuje tón.
Pokožka bude znatelně vláčnější, hladší, jasnější, svěžejší a mladistvější. Použití: naneste večer na čistý obličej v poslední fázi péče o pleť. Pokud se vyskytne podráždění snižte aplikaci na každý druhý večer.

Add To Cart
100% Genuine Product
Free Shipping by Czech Republic Post or Courier Service. Delivery usually takes 7-14 days. If no one is home when the parcel is delivered it will be left at the post office for collection.

30 days money back guarantee. If there is any problems with the products please send us an email and we will provide a solution to you, guaranteed.
We use PayPal to securely process payments including credit card payments.
Your purchase is protected by PayPal buyer protection. If you don't receive the products you ordered you can claim your money back.