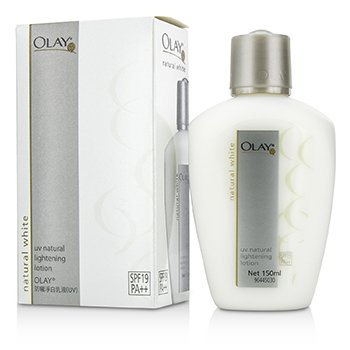 Olay Zesvětlující pleťové mléko Natural White UV Natural Lightening Lotion SPF 19 150ml/5oz
Bělící a ochranný denní krém. Vytvořeno s multivitamínem WTN technologií obsahující vitamín B3, B5 a E. Pomáhá zamezit tvorbě melaninu a koriguje tón pleti.Dodá dlouhotrvající hydrataci až po dobu 24 hodin.Chrání pleť před širokým spektrem UV paprsků s SPF 19PA++
Pleť bude hebčí, jasnější,světlejší, vyvážená a zdravě vypadající. Použití: Naneste ráno přiměřené množství na obličej a krk jako poslední krok vaši kosmetické péče.

Add To Cart
100% Genuine Product
Free Shipping by Czech Republic Post or Courier Service. Delivery usually takes 7-14 days. If no one is home when the parcel is delivered it will be left at the post office for collection.

30 days money back guarantee. If there is any problems with the products please send us an email and we will provide a solution to you, guaranteed.
We use PayPal to securely process payments including credit card payments.
Your purchase is protected by PayPal buyer protection. If you don't receive the products you ordered you can claim your money back.