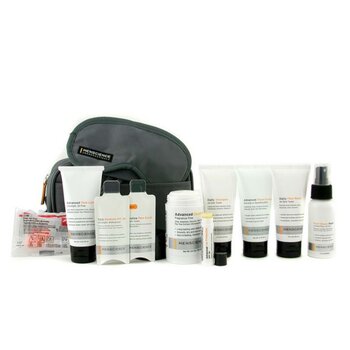 Menscience Cestovní sada: mýdlo na obličej + lotion + krém na holení + reparační péče po holení+ šampon + deodorant + balzám na rty + oční maska + zátky do uší + toaletní taštička 9pcs+1bag
Cestovní set.
1x čisticí péče na obličej 59ml/2oz.
1x pleťová voda 59ml/2oz.
1x holicí krém 57g/2oz.
1x regenerační péče po holení 59ml/2oz.
1x šampon pro každodenní použití 59ml/2oz.
1x deodorant 73.6g/2.6oz.
1x balzám na rty s UV filtrem č. 30 4.2g/0.15oz.
1x noční pleťová maska.
1x špunty do uší 1x toaletní taštička.
Ideální jak pro osobní použití tak jako dárek.

Add To Cart
100% Genuine Product
Free Shipping by Czech Republic Post or Courier Service. Delivery usually takes 7-14 days. If no one is home when the parcel is delivered it will be left at the post office for collection.

30 days money back guarantee. If there is any problems with the products please send us an email and we will provide a solution to you, guaranteed.
We use PayPal to securely process payments including credit card payments.
Your purchase is protected by PayPal buyer protection. If you don't receive the products you ordered you can claim your money back.