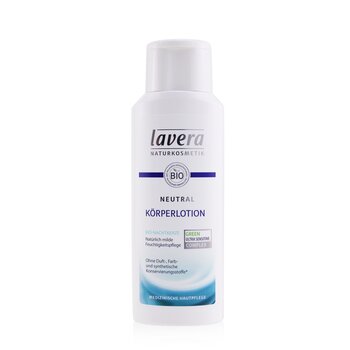 Lavera Tělová péče pro velmi citlivou pokožku 200ml/6.7oz
Organické tělové mléko s hydratačním účinkem a konzistencí, která se rychle rozpouští. Obsahuje organický olej z oliv, slunečnic a pupalky. Zahrnuje nenasycené mastné kyseliny, které regenerují a podporují přirozenou obnovu pokožky. Obohacené o bambucké máslo a skvalen pro účinnou ochranu a prevenci vysychání.
Vysoký obsah glycerinu a organického jojobového oleje zajišťuje optimální hydrataci. S vitamíny E a C pro zvýšenou péči. Pokožka bude znatelně jemnější, hladší, jasnější a zdravěji vypadající.

Add To Cart
100% Genuine Product
Free Shipping by Czech Republic Post or Courier Service. Delivery usually takes 7-14 days. If no one is home when the parcel is delivered it will be left at the post office for collection.

30 days money back guarantee. If there is any problems with the products please send us an email and we will provide a solution to you, guaranteed.
We use PayPal to securely process payments including credit card payments.
Your purchase is protected by PayPal buyer protection. If you don't receive the products you ordered you can claim your money back.