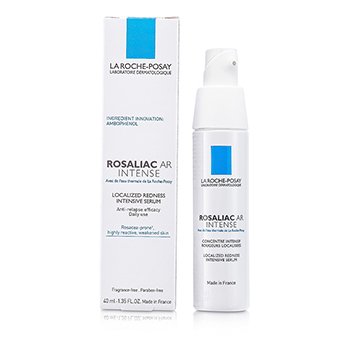 La Roche Posay Péče proti zarudnutí Rosaliac AR Intense 40ml/1.35oz
Efektivní sérum proti zarudnutí reaktivní pokožky. Obsahuje rostlinný ambofenol, neurosensin a vodu z termálních pramenů. Ihned zajišťuje potřebnou hydrataci. Minimalizuje znatelně červenou pokožku, tiší mrazivý pocit a pocit horka, který způsobuje rosacea nebo podráždění.
Pokožka bude znatelně klidnější, odpočatá a osvěžená.
100% Genuine Product
Free Shipping by Czech Republic Post or Courier Service. Delivery usually takes 7-14 days. If no one is home when the parcel is delivered it will be left at the post office for collection.

30 days money back guarantee. If there is any problems with the products please send us an email and we will provide a solution to you, guaranteed.
We use PayPal to securely process payments including credit card payments.
Your purchase is protected by PayPal buyer protection. If you don't receive the products you ordered you can claim your money back.