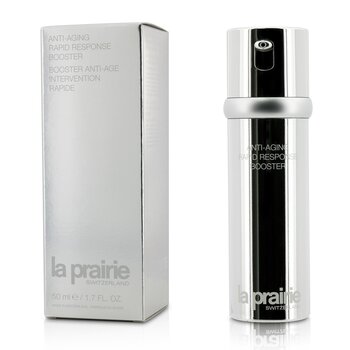 La Prairie Gelové sérum pro rychlou ochranu proti stárnutí Anti-Aging Rapid Response Booster 50ml/1.7oz
Intenzivní pleťové sérum na vyplnění vrásek. S rychle účinnou gelovou strukturou.Vytvořeno s revolučně aktivním účinným systémem.Dodá protivráskové peptidy přesně kde třeba pro snížení hloubky a délky vrásek.Kontroluje příznaky stárnutí pleti a obnovuje hydrataci.
S peelingovým efektem pro vypracování pleti a omezení vzhledu vrásek a rozšířených pórů.Pleť bude hladká a mladě vypadající.Použití:Po očištění ráno a večer, naneste 1-2 kapky na obličej,krk a dekolt.Pokračujte s hydratačním krémem.

Add To Cart
100% Genuine Product
Free Shipping by Czech Republic Post or Courier Service. Delivery usually takes 7-14 days. If no one is home when the parcel is delivered it will be left at the post office for collection.

30 days money back guarantee. If there is any problems with the products please send us an email and we will provide a solution to you, guaranteed.
We use PayPal to securely process payments including credit card payments.
Your purchase is protected by PayPal buyer protection. If you don't receive the products you ordered you can claim your money back.