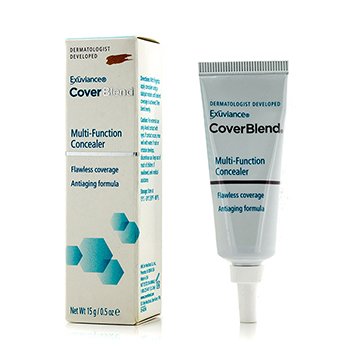 Exuviance Multifunkční korektor Coverblend Multi Function Concealer - Sand 15g/0.5oz
Přizpůsobivý anti-aging korektor na vodní bázi.
Obsahuje poly-hydroxylovou kyselinu PHA, která napomáhá hydrataci a zároveň zlepšuje tón pokožky.
Dodává pokožce sílu, přičemž redukuje drobné linky a vrásky.
Kryje a koriguje pleťové skvrny, tmavé kruhy pod očima a akné.
Perfektně kryje a poskytuje filtr pro ochranu před slunečními paprsky.
Vytvoří jednotnou, hladkou, bezchybnou, přirozenou a mladistvou pokožku.
Perfektní pro všechny typy pokožky.
Bez oleje a vůní, oftalmologicky a dermatologicky testován.
100% Genuine Product
Free Shipping by Czech Republic Post or Courier Service. Delivery usually takes 7-14 days. If no one is home when the parcel is delivered it will be left at the post office for collection.

30 days money back guarantee. If there is any problems with the products please send us an email and we will provide a solution to you, guaranteed.
We use PayPal to securely process payments including credit card payments.
Your purchase is protected by PayPal buyer protection. If you don't receive the products you ordered you can claim your money back.