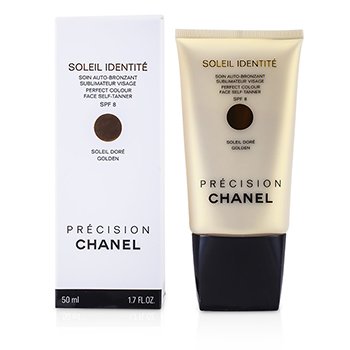 Chanel Samoopalovací rozjasňující péče na obličej Precision Soleil Identite Perfect Colour Face Self Tanner SPF8 - Dore ( Golden ) 50ml/1.7oz
Poskytuje postupné, sjednocené a přirozené opálení.
Zajišťuje až 8 hodinovou hydrataci.
Obohacená o extrakt z bílé lilie, který perfektně zklidňuje.
Obsahuje drobnou perleť, která opticky redukuje drobné linky.
Pokožka získá vláčný, sametově hladký a zářivý vzhled.
Linie zahrnuje 2 přirozené odstíny – zlatý (Golden) pro světlý odstín a bronzový (Bronze) pro tmavší odstín pokožky.

Add To Cart
100% Genuine Product
Free Shipping by Czech Republic Post or Courier Service. Delivery usually takes 7-14 days. If no one is home when the parcel is delivered it will be left at the post office for collection.

30 days money back guarantee. If there is any problems with the products please send us an email and we will provide a solution to you, guaranteed.
We use PayPal to securely process payments including credit card payments.
Your purchase is protected by PayPal buyer protection. If you don't receive the products you ordered you can claim your money back.