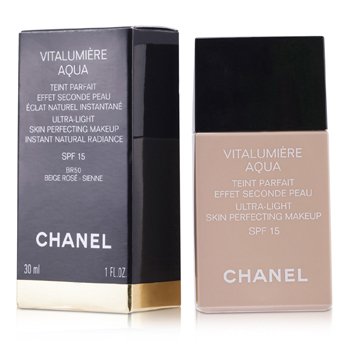 Chanel Lehký zkrášlující makeup s hydratačním účinkem - č. 52 Beige Rose 30ml/1oz
Tekutý vláčný make-up s neobyčejně hebkou texturou. Umožňuje velmi rychlou aplikaci a snadno se roztírá. Zajistí velmi subtilní a lehké zakončení, které působí naprosto přirozeně. Obsahuje filtr, který chrání proti UVB paprskům a minerální sluneční ochranu.
Obohacený o čistou a jasnou vůni pro příjemný pocit svěžesti.
Poskytne sjednocenou, osvěženou a zářivou pokožku. Zajistí rychlou a snadno aplikaci.

Add To Cart
100% Genuine Product
Free Shipping by Czech Republic Post or Courier Service. Delivery usually takes 7-14 days. If no one is home when the parcel is delivered it will be left at the post office for collection.

30 days money back guarantee. If there is any problems with the products please send us an email and we will provide a solution to you, guaranteed.
We use PayPal to securely process payments including credit card payments.
Your purchase is protected by PayPal buyer protection. If you don't receive the products you ordered you can claim your money back.