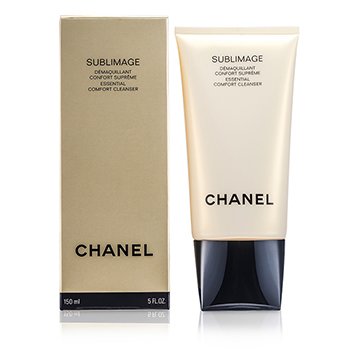 Chanel Čisticí gel pro absolutní komfort Sublimage Essential Comfort Cleanser 150ml/5oz
Efektivní čisticí péče pro důkladné vyčištění pokožky. Gelová textura se při doteku s pokožkou přemění na olej. Obsahuje deriváty cukru, kaméliový a jojobový olej. Šetrně odstraňuje zbytky dekorativní kosmetiky a nečistot z obličeje a očí.
Činí pokožku více receptivní pro následující péči.
Zanechá pokožku jemnou, hladkou, zklidněnou a svěží. Vhodná péče pro uživatele očních čoček.
100% Genuine Product
Free Shipping by Czech Republic Post or Courier Service. Delivery usually takes 7-14 days. If no one is home when the parcel is delivered it will be left at the post office for collection.

30 days money back guarantee. If there is any problems with the products please send us an email and we will provide a solution to you, guaranteed.
We use PayPal to securely process payments including credit card payments.
Your purchase is protected by PayPal buyer protection. If you don't receive the products you ordered you can claim your money back.