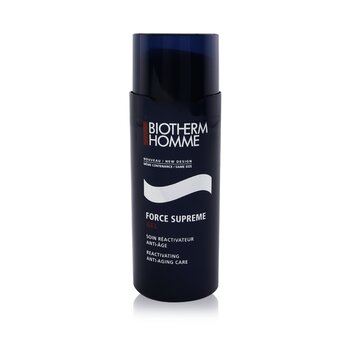 Biotherm Omlazující gel Homme Force Supreme Total Reactivator Anti Aging Gel Care 50ml/1.69oz
Obsahuje extrakt z cedrových pupenů, který urychluje buňkovou regeneraci a přestavuje strukturu pokožky. Obohacený o patentovanou složku Pro-Xylane (tm) a potentní omlazující šťávu, která zvyšuje hutnost pokožky. Udržuje požadovanou vláhu v pokožce a podporuje produkci kolagenu, který zajišťuje potřebný objem a kyprost pokožky. Obohacený o čistý termální plankton, který udržuje přirozenou imunitu a chrání před škodlivými enviromentálními vlivy.
Pokožka získá hutnost a kyprost a vrásky budou méně znatelné.
100% Genuine Product
Free Shipping by Czech Republic Post or Courier Service. Delivery usually takes 7-14 days. If no one is home when the parcel is delivered it will be left at the post office for collection.

30 days money back guarantee. If there is any problems with the products please send us an email and we will provide a solution to you, guaranteed.
We use PayPal to securely process payments including credit card payments.
Your purchase is protected by PayPal buyer protection. If you don't receive the products you ordered you can claim your money back.