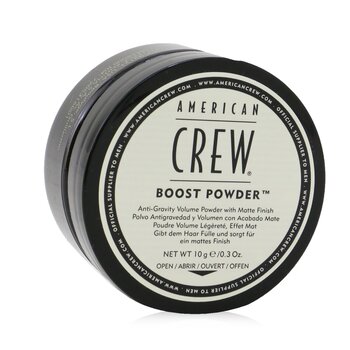 American Crew Vlasový pudr pro muže Men Boost Powder 10g/0.3oz
Antigravitační vlasový pudr s lehkou konzistencí pro výrazné zvětšení objemu. Obsahuje propylenglykol,
hydrofobní oxid křemičitý a kyselinu citronovou. Zdvihá, zhušťuje a poskytuje flexibilní zpevnění. Uzavírá ve vlasech přirozenou vláhu a změkčuje jejich texturu.
Lze použít s jakýmkoliv stylingovým přípravkem American Crew. Vlasy budou revitalizované a získají matný vzhled.
Použití: před použitím poklepejte na uzávěr, aby se uvolnilo požadované množství pudru. Naneste malé množství do dlaně a pak lehce poprašte suché vlasy a zapracujte pudr do účesu.

Add To Cart
100% Genuine Product
Free Shipping by Czech Republic Post or Courier Service. Delivery usually takes 7-14 days. If no one is home when the parcel is delivered it will be left at the post office for collection.

30 days money back guarantee. If there is any problems with the products please send us an email and we will provide a solution to you, guaranteed.
We use PayPal to securely process payments including credit card payments.
Your purchase is protected by PayPal buyer protection. If you don't receive the products you ordered you can claim your money back.