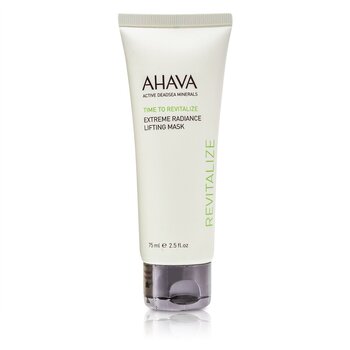 Ahava Revitalizující maska pro rozjasnění a vypnutí pokožky Time To Revitalize Extreme Radiance Lifting Mask 75ml/2.5oz
Efektivní pleťová maska pro rozjasnění a vypnutí pokožky. Gelová konzistence je
příjemně osvěžující. Obsahuje OsmoterTM a směs Extreme Complex z minerálů z nejvyšších a nejnižších míst na zeměkouli. Obohacená o minerály z Mrtvého moře, extrakt datlovníku, ovoce Goji z Himaláji a vysoce účinný arganový olej. Regeneruje, revitalizuje a vypíná.
Odhaluje pevnější, hladší, zářivější a jednotnější pokožku. Testováno proti alergiím a bez parabenů. Použití: naneste na čistý obličej, nechte působit 10 minut a poté opláchněte nebo zbytek setřete. Potom použijte hydratační péči.
100% Genuine Product
Free Shipping by Czech Republic Post or Courier Service. Delivery usually takes 7-14 days. If no one is home when the parcel is delivered it will be left at the post office for collection.

30 days money back guarantee. If there is any problems with the products please send us an email and we will provide a solution to you, guaranteed.
We use PayPal to securely process payments including credit card payments.
Your purchase is protected by PayPal buyer protection. If you don't receive the products you ordered you can claim your money back.