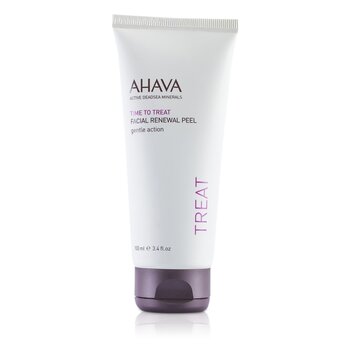 Ahava Obličejový peeling pro obnovu pokožky Time To Treat Facial Renewal Peel 100ml/3.4oz
Rejuvenační peeling na obličej. Pomáhá odstranit odumřelé kožní buňky a zároveň podporuje produkci nových buněk. Zahrnuje inovativní technologii CitrationTM, která využívá vody z Mrtvého moře. Zajišťuje přísun a stabilizuje čistý Vitamin C a další účinné ingredience. Zlepšuje kvalitu povrchu a zároveň stimuluje syntézu kolagenu.
Obsahuje exkluzivní látku OsmoterTM, která zajišťuje obnovu, rehydrataci a regeneraci. Odhaluje čistší, hladší, jasnější a jednotnější pokožku. Použití: aplikujte na čistý obličej a nechte působit 10 minut. Pokožku dobře opláchněte vlažnou vodou.

Add To Cart
100% Genuine Product
Free Shipping by Czech Republic Post or Courier Service. Delivery usually takes 7-14 days. If no one is home when the parcel is delivered it will be left at the post office for collection.

30 days money back guarantee. If there is any problems with the products please send us an email and we will provide a solution to you, guaranteed.
We use PayPal to securely process payments including credit card payments.
Your purchase is protected by PayPal buyer protection. If you don't receive the products you ordered you can claim your money back.