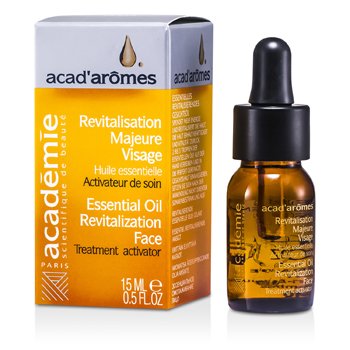 Academie Revitalizující noční péče Acad'Aromes Essential Revitalization Face 15ml/0.5oz
Obsahuje 100% čisté, koncentrované a přírodní esenciální oleje.
Proniká hluboko do pokožky a zvyšuje energetický potenciál pokožky
Reguluje sekreci séba.
Zklidňuje a zároveň poskytuje antibakteriální, antiseptický a adstringentní účinek.
Obnovuje zář a zdraví pokožky.
Použití: aplikujte na čistou pokožku a poté použijte svou obvyklou kosmetiku.
Tento produkt je bez krabičky. Je čerstvý a původní jako zboží v originálním balení.

Add To Cart
100% Genuine Product
Free Shipping by Czech Republic Post or Courier Service. Delivery usually takes 7-14 days. If no one is home when the parcel is delivered it will be left at the post office for collection.

30 days money back guarantee. If there is any problems with the products please send us an email and we will provide a solution to you, guaranteed.
We use PayPal to securely process payments including credit card payments.
Your purchase is protected by PayPal buyer protection. If you don't receive the products you ordered you can claim your money back.